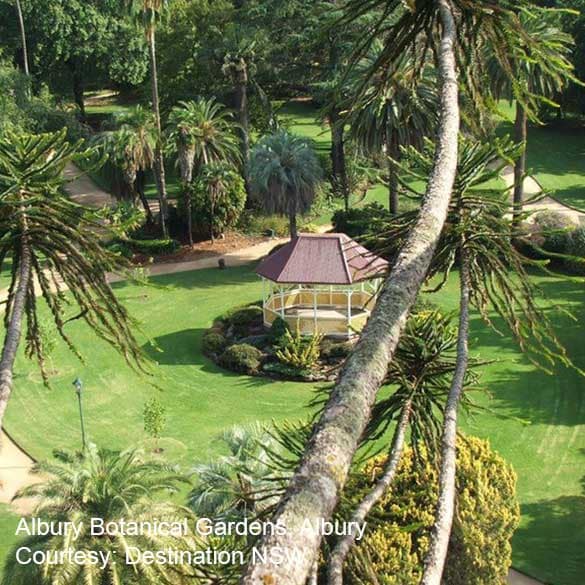 The Great Outdoors
---
The Riverina-Murray River region is a great holiday destination offering water-based sports and other equally fun-filled activities.
The Murray River, which stretches through the region is a great venue for paddling boats, kayaking, water skiing, fishing or for cruising aboard the infamous paddle steamers.
Come & enjoy some of its delights.
Things To See & Do
Albury
Albury Botanic Gardens
Murray Art Museum Albury (MAMA)
Wonga Wetlands
Wagirra Trail and Yindyamarra Sculpture Walk
Corowa
Corowa Federation Museum
Corowa Whisky and Chocolate
Corowa Golf Club
Deniliquin
The Depot Historic Vehicle and Memorabilia Collection
Mountain Bike Trails Deniliquin
Deni Ute Muster
Hay
Shear Outback Museum
Hay Sunset Viewing Area
Bidgee Riverside Trail
Griffith
Pioneer Park Museum
Cocoparra National Park
Catania Fruit Salad Farm
Moama
Murray River Paddlesteamers
Moama Five Mile Mountain Bike Trail
Backroads Trail
Temora
Temora Aviation Museum
Lake Centenary
Canola Trail
Wagga Wagga
Riverside: Wagga Beach
Wiradjuri Trail
Bundyi Cultural Tours
Wagga Wagga Art Gallery
Fast Facts
27 holiday parks in the Riverina-Murray River region
21 holiday parks with swimming pools
17

dog friendly

holiday parks
21 dump points
13

waterfront

holiday parks
Find a Holiday Park in the Riverina-Murray River Region
Discover a blossoming food scene, endless outdoor adventure and a thriving arts culture in the vibrant twin regional centres of Albury and Wodonga. On either side of the Murray River, the two cities provide a charming break on the Melbourne-Sydney drive, with the Snowy Mountains and Rutherglen wine region nearby.
Things to See & Do
Albury Botanic Gardens
Murray Art Museum Albury (MAMA)
Wagirra Trail and Yindyamarra Sculpture Walk

Wonga Wetlands

Oddies Creek Adventure Playspace

Albury Wodonga Brave Hearts Dragon Boat Regatta (Autumn)

Albury Gold Cup Carnival (March)
Write Around the Murray (September)
A rural community, the Corowa region is situated on the mighty Murray River and boasts a very Mediterranean climate which is ideal for family trips away.
There is much to do in the Corowa region, with an abundance of water sports available on the river.
Things to See & Do
Corowa Federation Museum

Corowa Whiskey and Chocolate

Corowa Golf Club
Corowa and Howlong History Trails
Named after the chief of the local Aboriginal tribe, 'Denilakoon', Deniliquin originated as a crossing over the Edward River.
The area boasts many natural attractions for travellers looking for adventure or even a peaceful stopover.
Take a bush walk in the world's largest red gum forest, have a picnic by the river or go fishing for the famous Murray Cod.
Known as the ute capital of the world, the town holds The Guinness Book of Records world title for the most utes mustered in one place.
The area continues to break its record each year during the annual Ute Muster Play on the Plains Festival. Held in October, this is a fun-packed local event not to be missed.
Things to See & Do
The Depot Historic Vehicle and Memorabilia Collection

Peppin Heritage Centre

Mountain Bike Trails Deniliquin
Play On The Plains (March)

Deni Ute Muster (October)
Explore world-class wineries, fresh produce and fascinating heritage in Griffith, in the beautiful Riverina. You'll find plenty of cellar doors to visit, providores with delicious local produce, quality restaurants and cafes, and festivals celebrating a rich food and wine culture.
Things to See & Do
Catania Fruit Salad Farm
Yarran Wines
Pioneer Park Museum
Bertoldo's Pasticceria
De Bortoli Wines
Hermit's Cave and Scenic Lookout
Mathoura is located in the Riverina-Murray River region of NSW, just 40km north of the Victorian border towns Echuca-Moama.
Mathoura is known as the gateway to one of the largest Red Gum forests in the world.
This forest is some 70,000 hectares and includes wetlands of international significance and has arguably the best access in the region to the Murray River, with good dry weather roads and no high banks.
Mathoura began as a market garden and a pub on a drovers track in the mid 1800's, and built itself as a timber source for the developing young nation of Australia.
Not surprisingly, timber still remains an economic mainstay of the area ever since the woodcutters first arrived in the 1850's.
The Red Gum timber is used for railway sleepers, furniture, landscaping, firewood, fence posts, and much more.
Things to See & Do
Backroads Trail

Gulpa Creek Walk

Mathoura

 Heritage Trail
Edward River Canoe and Kayak Trail

Barmah Wetlands Red Gum Forest

The Timbercutter
Step back in time and enjoy the riverboat days at Moama where a sumptuous lunch awaits your visit on board a paddle-steamer on the mighty Murray River.
Food connoisseurs will relish the gourmet outlets and cellar door visits where the local and regional food and wine is a must to try.
Things to See & Do
Murray River Paddlesteamers
Moama Five Mile Mountain Bike Trail
Morrisons Riverview Winery Restaurant & Brewery
Rich River Golf Club

Riverboats Music Festival (February)

Moama Lights (May)
Perricoota Pop & pour Festival (November)
Renowned for its wonderful climate, this picturesque town is an "Inland Aquatic Paradise". Visitors can enjoy the stunning scenery, take in the serene surrounds of the forest, and enjoy Lake Mulwala and of course the mighty Murray River.
If you love life by the water you'll love this area.
Things to See & Do
Yarrawonga Mulwala Golf Club Resort
Lake Mulwala Barby Boats
P.S. Cumberona Paddlewheeler Cruises
Mulwala Water Ski Club
In riverside Narrandera, part of the beautiful Riverina, you can visit koalas in their natural habitat, explore fascinating heritage and enjoy fishing, kayaking and swimming. There are orchard tours, cycling and walking trails by the river, and two of Australia's iconic 'big things'.
Things to See & Do
Koala Reserve
Narrandera Water Tower Mural
Sandhills Artefacts
The Big Guitar
Glendale Citrus and Hazelnut Orchard
Altina Wildlife Park
Whitton Malt House
Ideally situated on the Murray River, the red gums of Tocumwal will welcome you to this thriving rural town.
Enjoy a leisurely swim at one of the many beaches close to town or take in the natural surrounds on a busk walk or horse ride. Fisherman will enjoy a stay at Tocumwal where Murray cod is always a fine catch for the day.
Things to See & Do
The Blowhole Reserve
Tocumwal Historic Aerodrome Museum
The Big Murray Cod
Tocumwal Golf Club
Barmah National Park
Tocumwal Airshow (September)
As one of Australia's leading regional cities, Wagga Wagga is the ideal base from which to explore the rest of the Riverina-Murray River region.
An easy day trip in any direction can take you to the glorious Mount Kosciuszko the east or to the wine region of Griffith.
Or if you would rather stay within Wagga Wagga you have plenty to enrich your spirit with a visit to the Victory Memorial Gardens a tribute to those who fought in World War One.
Things to See & Do
Riverside: Wagga Beach
Wiradjuri Trail
Borambola Wines
Bundyi Cultural Tours
Bidgee Strawberries and Cream (October to May)
Wagga Wagga Art Gallery
Junee Chocolate & Licorice Factory
Wagga Wagga Food & Wine Festival (March)
Lost Lanes (June)
Gears & Beers Cycling and Craft Beer Festival (October)
The Long Paddock – Cobb Highway Touring Route follows The Cobb Highway (named for the famous coach company) from Echuca Moama on the Victorian border, through to Wilcannia leading to the iconic outback towns of Bourke, Broken Hill & White Cliffs. More information
Explore the natural beauty in The Murray, along with it's heritage and culture. Australia's longest river was a highway for steam-driven riverboats and the twin towns of Echuca-Moama are the paddle-steamer capital, where you'll find river tours. More information
Travel from the heart of Australia's food bowl of the Riverina-Murray River region including the places of Griffith and Wagga Wagga to exhilarating alpine wilderness of the Snowy Mountains with stunning rivers and mountains. More information
Drive through the heart of the Riverina Murray where you'll travel almost 1,000 kilometres from Wentworth in the far west of the state through to Tumut at the foothills of the Snowy Mountains. More information