You can do what many only ever dream about when you purchase your own caravan.
Caravans come in many shapes, sizes and designs. They are compact enough to be towed behind a car require no extra set-up to live in. They are often the most popular of the options and the choice of serious, long-term travellers.
A major perk of caravan travel is that once you reach your destination you can unhitch your car and drive it separately so there is no need to drive an oversized vehicle around when doing day trips.
There are many different styles available, which can be anything from 3 metres to 10 metres long. Dependant on the size and your requirements they can include some comforts of home such as shower/toilet, refrigerator, gas stove, microwave oven and more.
There are a variety of reasons for buying a caravan: family holiday, regular short trips, extended bush travels or extended retirement travels. You should consider the following before you purchase.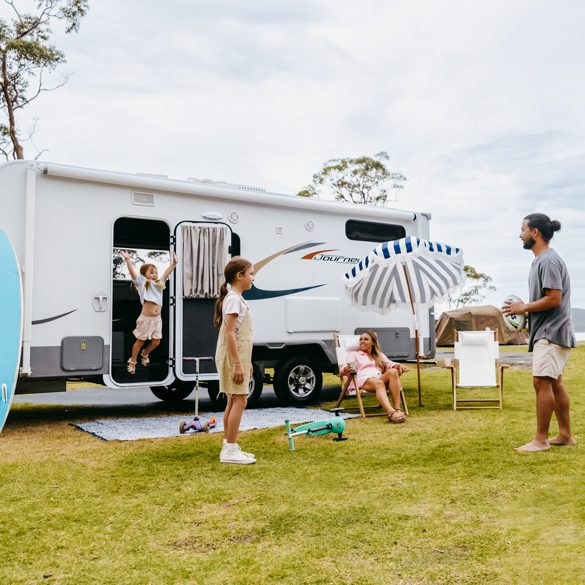 Things to consider
Caravans are a good compromise between a smaller and larger vehicle
Apart from reversing, they are easy to drive
The ability to detach your car from the caravan once set up
Provides the comforts of home and the accommodation freedom
You need to be careful about what you bring and how you store it due to its load weight capacity
Possible limitations of route choices due to their level of sturdiness
Size of the Caravan
The most popular size for today's caravans range between 3 metres (11ft) and 7 metres (24ft). Anything smaller is not particularly comfortable for more than one person, and anything larger becomes a towing challenge that will take much of the fun out of caravanning. Generally, the smaller the van the easier the towing.
Of course the shape, height and weight of the caravan will also influence towing performance. Today's slimline, lightweight and low profile models are a complete contrast to the lumbering wheeled pagodas of bygone years.
If you can afford the right type of towing vehicle and have no qualms about towing a larger caravan, it's a delight to own a luxury home on wheels complete with its own en-suite, flushing toilet, hot and cold running water, separate bedroom and full sized kitchen.
Frame & Axle
The old argument about whether a wooden frame is better than an aluminum one still persists in some areas. The fact is that it doesn't really matter. But the signs are already clear that aluminium is likely to be the material of the future as softwoods become scarcer and costlier and more responsible ecological practices prevail.
Prospective buyers can often be confused about the number of axles that it's best to have. This is not really a matter of choice. The provision of two axles instead of one applies when caravans reach a certain size and it becomes imperative, for safety reasons, to share the weight between four wheels instead of two. You won't often find many tandem axles fitted to vans of less than 4.8 metres (16ft), and only rarely will you come across a single axle model of 5.1 metres (17ft) or more.
What kind of Suspension?
Whether you choose a caravan with independent suspension or a basic solid axle and leaf spring, once again there's no reason for anyone to challenge your decision.
Smooth riding independent suspension (any of the numerous designs available) is great to have on most Australian roads, kind to your caravan, and these days problems with it are rare indeed.
Those who go for a caravan with the traditional leaf spring design will probably pay a little less and can enjoy the reassuring thought that there isn't much that can go wrong.
When do you need an Off-Road Caravan?
There are caravans designed and built to cope with the varying degrees of rough road to be found in this country. The most rugged of these could perhaps be described as 'off-road'. More common are the models which can appropriately be described as 'out back' caravans.
These are fairly conventional in design and are usually beefed up versions of a manufacturer's normal range, with added strengthening to the chassis and items such as under caravan protection for water tanks, bumper bars that extend underneath for protection when emerging from wash ways, special dust-proofing and perhaps externally mounted jerry cans or other sensible additions.
There are many makes that carry a warranty covering towing with a 4WD vehicle. This may not seem as important as it was a few years ago when 4WD suspension was rough enough to traumatize a van's chassis. Today's 4WDs are greatly improved in this regard, but you can be sure that the caravan with such a warranty can take a moderate amount of punishment if necessary.
An entirely stock standard caravan can usually travel on rough corrugated roads for short distances without suffering damage, providing care is exercised.
Outback travel with a caravan is really a matter of using commonsense. Read the condition of the road, watch the van and if things appear to be getting too rough for it, go back. Check weather conditions before you go to ensure that you don't get stranded, and if you want to disappear into the real wilderness for a few days, leave your caravan on site in the nearest town and take a tent.
We'd also like to point out that Australia today is well served with bitumen roads and these are supplemented by many unsealed roads of reasonable standard in most weather conditions. Almost anywhere you are likely to want to visit on your own, the first time around at least, is accessible without the need to risk life, limb or property.
Layouts
Where layout is concerned the most popular caravan today, as we are constantly told by retailers, is a 4.5 – 5 metre (15-16ft) pop-top with front kitchen, island double bed at the rear and an L-shaped dinette at one side with a small lounge seat opposite.
Consequently this is the size and layout that is offered without fail at every caravan retail outlet around the country. Don't be rushed into buying this floorplan though if you think you would prefer a model with a side kitchen and a big club lounge under the front window.
Custom-building is the norm these days, and it's usually worth waiting a month or two for the caravan you've set your heart on if it isn't available.
The question of double or single beds makes many couples smile, but it's really a serious point to consider. Smaller than home-sized double beds (often only 1.2 metres or 4ft wide) may look cozy and appealing in a sales yard, but on-site in tropical Cairns they can turn cuddly couples into hostile insomniacs.
Unless you are both sound sleepers and accustomed to tropical climates, it may be more practical to opt for a single bed layout. One consolation is that this will give you more usable living space in your van, including seats for visitors.
The standard of a caravan's finish is usually easy to determine by glancing inside cupboards and under seats.
Most manufacturers have abandoned the heavy and less durable chipboard and returned to genuine timber for cupboard shelves and doors. Ill-fitting joints and rough splintery surfaces, too, are mostly things of the past, but vigilance is still recommended.
Fittings
You will be faced with an alluring array of internal features when you start to shop around the caravan retail outlets. Having decided on the size and style of van that's right for you, the huge variety of choices that remain mean that the final decision is still by no means easy.
Space restrictions make it difficult for us to advise you but we can tell you that most modern features have been suggested by real caravanners and are genuinely worthwhile additions.
Before you set off to the showrooms or dealers, take the time to ask yourself the following questions:
List everything you want in the caravan then classify them into 'You Wish' & "You Need'
(This could include: Do you require an awning or full annexe; Will you cook inside or outside or both; Do you require a toilet/shower).
Where do you plan to go in your caravan in the next two years?
(Calculate how many trips and total distance. Also consider travelling on roads, off roads etc)
Where will you store the caravan?
(Calculate the maximum height restriction)
What is the towing capacity of your vehicle?
(Match the caravan to your car)
How much space do you need inside?
(Consider how many people will sleep in it and storage requirements)
What is more important: the comforts of home or economy of light travel?
Visit a NSW Caravan & Camping Show
Head to one of our amazing Caravan and Camping shows where you will see everything on display in one convenient place. Find the next show here
Talk to a CCIA Member
CCIA Members are specialists in Recreational Vehicles and can help to direct you to the right vehicle that suits your needs and budget. 
Find your nearest CCIA Member
– Caravans