Hit the road and experience it your way in a Campervan
Campervans are designed for recreational travel and are fitted out specifically for camping. A benefit of owning a campervan is the flexibility for year round use, doubling as a vehicle for transport while at home and no need for towing.
Campervans can accommodate a couple or a whole family comfortably and are similar to motorhomes and are built inside the confines of a van body with sleeping, refrigeration, sink, cupboards cooking and dining facilities. Often the roof is raised higher for easier standing and mobility.
Standard equipment – as in all Caravans – includes water tank, stove and refrigerator. Top of the range deluxe campervans can feature heated/air-conditioning, shower/toilet, large double bed and a fully equipped kitchen including microwave, gas stove and refrigerator.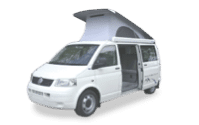 Things to consider
Flexibility for year round use, doubling as a vehicle for normal, private transport while at home
Low touring costs
Flexible overnight stay locations
Limited storage facilities
Possibly too confining to stay in for long periods of time

Before you set off to the showrooms or dealers, take the time to ask yourself the following questions:
Where do you plan to go in your campervan? – Do you want to go off road with it?
How much space do you need inside?(Consider how many people will sleep in it and storage requirements)
What basic home comforts do you require?
Visit a NSW Caravan & Camping Show
Head to one of our amazing Caravan and Camping shows where you will see everything on display in one convenient place. Find the next show here
Talk to a CCIA Member
CCIA Members are specialists in Recreational Vehicles and can help to direct you to the right vehicle that suits your needs and budget. 
Find your nearest CCIA Member
– Campervans