Massive murals have and continue to transform grain silos around the country into giant works of art.
The majority of current artworks are found along the Silo Art Trail, and it is described as "Australia's largest outdoor gallery" and spans more than 200 kilometres and links Victorian towns like Brim, Patchewollock and Sheep Hills.
In these towns, grain silos have been covered with portraits from international and Australian artists, designed to give a special insight into each community.
Art work Silos can also be found in NSW, Queensland, South Australia and WA. The two main in NSW are in:
Porland –
Portland's old cement works, now known as The Foundations on the outskirts of the Blue Mountains showcases eight figures who adorn the silos, most facing away from the viewer or with their faces obscured, inviting debate as to who the people featured really are.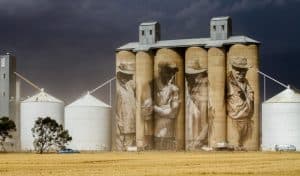 Weethalle  –
The silo art piece showcases Weethalle's two biggest industries – sheep and wheat.
This is the first art silo for New South Wales' – on one side, we see a sheep shearer at work in a shed, while opposite a farmer strands in an expansive wheat field.