Everyone's keen for a camping holiday when the sun is shining, but the biggest mistake you can make is failing to prepare for a downturn in the weather.
A sudden downpour or icy snap while you're out camping or staying in a holiday park can dampen your spirits as fast as your gear. However, there's no reason wet, windy, or chilly weather has to have a negative impact on your holiday. All you need is to be prepared, have the right equipment in your kit, and maintain a calm and positive attitude when the storm clouds hit. Follow our handy check-list as an action plan for when the weather's less than ideal on a camping trip.
Although weather forecasts can't always be relied upon, at the least, they'll give you an idea of what's ahead. Keep a check on the Bureau of Meterology (BOM) website which can be easily accessed by mobile devices on a special app.
Take into account the seasons. For example, if you can avoid travelling in the tropics during summer, do so, and be aware of cyclone season from November to April. Understand that bad weather can affect not just your destination, but your journey there. Floods can impact on roads, particularly in areas where roads aren't sealed, making travel dangerous and difficult, and impossible if you're towing a caravan. Listen to local radio stations for weather warnings and updates and check in with local police and roadhouses along the way.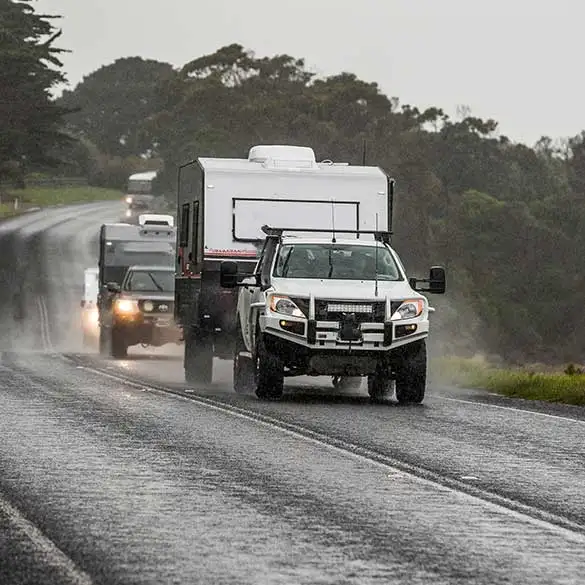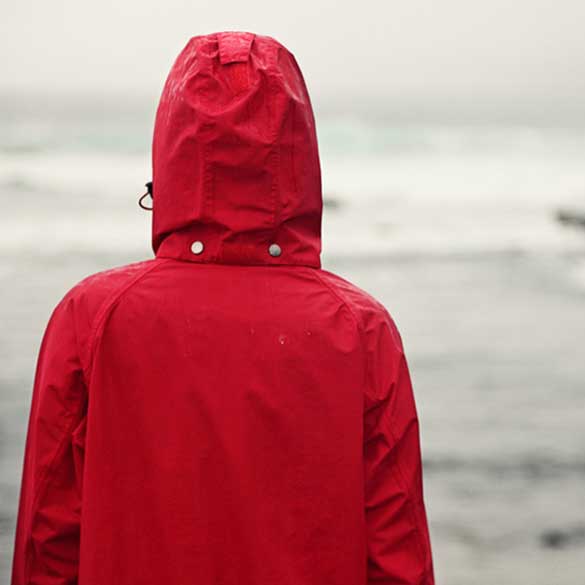 Don't Forget the
Wet Weather Gear
Even if the sun's shining when you set off, always bring a supply of wet weather gear with you. This includes rain jackets and shoes that waterproof or at least, fairly resistant to water. If you're heading in and out of your caravan, tent, or cabin frequently, shoes that slip on and off easily are best, like a sturdy pair of beeswax treated Blundstone boots or similar.
As for the rest of your outfit, the trick is to layer. Invest in some thermal underwear, or failing this go with a t-shirt, long sleeved top and then something fleecy for the top with a wind protection layer. Keep anything cotton for under garments, as this will get wet and stay wet if used for the outer layer. Don't forget beanies and gloves (waterproof and fleecy) as well.
While most caravans are built to be fairly sturdy, severe weather can prove the undoing of even the hardiest. If you're travelling in north Queensland there's the added threat of cyclones and tropical storms at certain times of the year. For this reason, it's important to know how to keep your van secure in the event of heavy rain, gale force winds, or worse.
Many caravan parks in the tropical north of Australia have tie down points set into the concrete slabs you park your van on, so you can secure it with a rope or chain of a specified thickness. This isn't fail-safe though, as securing in this way will only restrain the chassis.
In severe weather, the frame can be smashed or blown away so you really need to tie the whole van down. You can cross ropes over the roof, tensioning them at tie-down points, and use protective carpet or towels under the corners. You could also dig a hole for each wheel, lowering the wind resistance and sink angle iron posts into the ground on all four corners and the centre. Then tie the chassis and the whole van down to these with ropes and chains.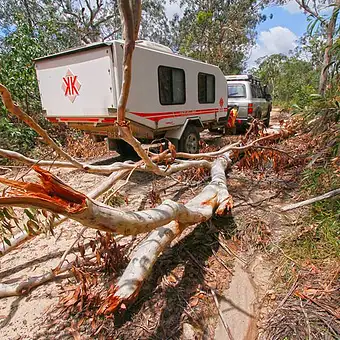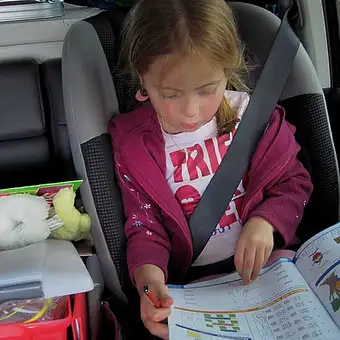 Keep The
Kids Entertained
If bad weather's not enough to test your patience, the addition of bored children will surely do the trick. Taking kids on the road without a wet weather contingency plan is the work of a fool! Luckily, with a bit of forward thinking you can hang on to your sanity and still create some lifelong memories, even if they are confined to the caravan or tent.
Bring games with you, and lots of them. Card games are perfect for travel as they don't take up much packing space and the whole family can get involved. A bit of healthy competition never hurt anyone! Try Uno, Skip-Bo or Phase 10. While we may spend plenty of time getting kids to put down the devices, an iPad loaded with games or a portable DVD player can come in handy in the case of bad weather.
Colouring books and pencils are also great for littlies, and books and graphic novels keep older kids and teens occupied on rainy days.
Even if you're not heading off the beaten track to a remote area, it's important to have plenty of supplies with you. After all, no one wants to be caught short in bad weather when all you want to do is rug up in comfort as the worst of it passes. Having to duck out for toilet paper in the middle of a downpour is less than ideal! Make a list before you leave and account for anything you know could be annoying or difficult to replace in the event of bad weather and bring extra. This goes for food too, especially when you're camping with kids.
When the weather's bad, often the best thing to do is make a snack or two to accompany those games you'll be playing. Bring the essentials and the all the necessary non-perishables, with maybe a treat or two to bribe young ones with for a bit of peace and quiet.