Waterfalls allow for incredible viewing, they showcase nature at its most picturesque and are regularly flanked by dazzling landscapes.
Here are 6 must see waterfalls in NSW that you should visit.
Crystal Shower Falls, Dorrigo National Park
Spotted within the glorious World Heritage Gondwana Rainforests of Australia area, this single-drop waterfall is majestic. A visit here is noteworthy: follow the walking track that positions you right behind the fall as water plunges into a pool surrounded by lush scenery. Crystal Shower Falls is one of several waterfalls within Dorrigo National Park and the widerregion. Dorrigo is an hour's drive from Coffs Harbour.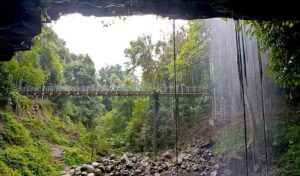 Ebor Falls, Guy Fawkes River National Park
Watching the waters of Guy Fawkes River drop 100m into a spectacular gorge is gripping. This superb two-tiered waterfall is a photographer's dream: take in the outrageous beauty from three designated lookout platforms, which deliver contrasting views of the falls and rugged surrounds. Ebor Falls is located near Armidale.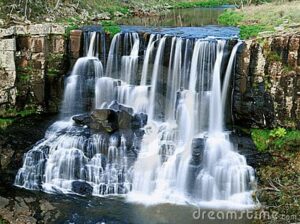 Wollomombi Falls, Oxley Wild Rivers National Park
Witness a remarkable sight as the highest waterfall in New South Wales drops 220m into a gorge. Like Crystal Shower Falls, it is located within the Gondwana Rainforests of Australia area; so expect a landscape dominated by eye-catching greenery. There are two main paths from which to admire the falls and they reward those who make the effort to trek along them. As with Ebor Falls, Armidale makes a great base if visiting this natural attraction.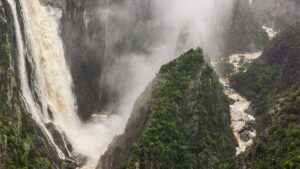 Fitzroy Falls, Moreton National Park 
Located in the Southern Highlands, Fitzroy Falls is the 81m waterfall from which the town takes its name. The cascade is one of many natural falls within Moreton National Park and can be viewed by following the boardwalk that runs alongside the creek. At the top of the walk is a lookout affording spectacular views of the falls and catchment 100m below.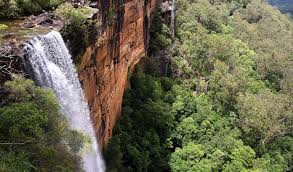 TIA Falls,  Oxley Wild Rivers National Park
Tia Falls (pronounced "TYE-uh" and not "TEE-uh") is one of several impressive waterfalls in the Oxley Wild Rivers Gorge system. Approximately 100m high, it cascadeds steeply into the gorge and rainforest below.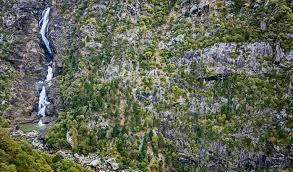 Ellenborough Falls, Greater Taree Region
Located on the Bulga Plateau at Elands, one hour's drive north-west of Taree on Tourist Drive 8, and are a spectacular site. At 200 metres, it is one of the longest single drop waterfalls in the Southern Hemisphere.