Instant ramen noodles are a quick budget-friendly staple meal for backpackers or camping enthusiasts on a trip.
DISCARD the seasoning packets – you don't need them. This soup, stir fry and salad ramen noodle recipes below will bring different tasty fusions to a whole new level.
Ramen Soup Recipe 
Yields: 2 – 3 servings
Ingredients:
2 instant ramen pack

1 carton store-bought chicken broth

½ inch chopped ginger

2 clove garlic

1 tbsp turmeric

1 sachet miso paste

1 tsp lemon grass 

1 sprig coriander for garnish
Method:
Set up a medium pot over high heat.

Throw in all the ingredients with instant ramen noodles into the pot.

Boil for 4 minutes until ingredients soften. Stir well.
Ramen Stir Fry Recipe
Yields: 2 – 3 servings
Ingredients:
2 ramen packs 

2 diced spring onions

1 tsp vegetable oil

ground black pepper

2 eggs

3/4 cup shredded cheddar

3 slices bacon, chopped in small pieces

Siracha (optional)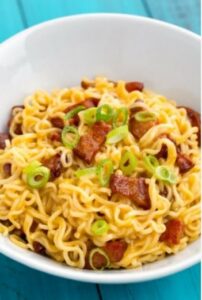 Method:
Set up a medium pot on high heat and boil the instant ramen noodles (as per package instructions). Then drain the water out.

In a saucepan, put vegetable oil and bacon pieces until crispy brown.  Then throw in the eggs and cheese. Stir around until cooked. 

Pour in your noodles into the sauce pan and toss the mixture around.

Garnish with spring onions, sprinkle a pinch of pepper and siracha (optional).
Recipe source: Breakfast Ramen by Delish.com
Ramen Salad Recipe 
Yields: 8 servings
Ingredients:
2 cups shredded red cabbage

4 cups shredded green cabbage

1 cup carrots, thin slice strips

2 ramen packs, noodles broken into small chunks

½ cup diced onions

½ cup peanuts crushed

½ cup vegetable oil

1/3 cup rice vinegar

2 tbsp sugar

1 tbsp salt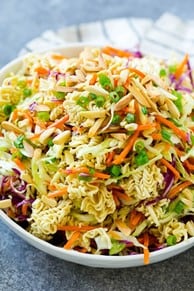 Method:
In a large bowl, mix the cabbages, onion, carrots, small chunky ramen noodles and crushed peanuts.

In a small bowl, stir dressing mixture of vegetable oil, rice vinegar, salt and sugar.

Pour the dressing mixture into the large bowl (from step 1). Mix well.
Recipe source: Ramen Noodle Salad by Sara Welch and Dinner at the Zoo