Euro Caravans is a global manufacturer importing from Europe and are made with the highest quality materials, fixtures and appliances.
These small, compact and lightweight caravans are suitable for one, two or three persons, travelling in comfort. Other benefits are they are easy manoeuvre, better fuel consumption and less wear on your vehicle.
Euro Caravans have two models:
EURO GLIDER
The popular small caravan, the Glider, is a perfect and advanced vehicle with the latest components from reputable manufacturers in the industry. The Glider weighs just 560 kgs, making it towable by virtually every car on the road.
Internal dimensions: 270 x 185 x 186 cm, this compact caravan is small to save you money, but travels with the best in comfort and reliability. The lightweight materials & compact design make it ideal for even the longest journeys, while enjoying all the luxuries of the best quality fittings & appliances.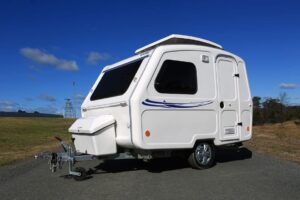 EURO HOBBY
The Euro Hobby is a lightweight caravan OF 850 kgs, towable by virtually every car on the road, and its compact design makes this caravan ideal for even the longest journeys.
Internal dimensions: 305 x 195 x 182 cm and is able to comfortably accommodate up to 3 people and provides all the comfort and luxuries you want in a small caravan. Sufficient overhead storage lockers and cupboard space. The body is made of fibre glass using a GRP assembly method for ultimate longevity.