IT'S 5pm on a Friday; it's time to break free from whatever shackles you to your domestic life – whether it's school, work, study, or caring for your next door neighbour's dog – and hit the highway; the wind in your hair, the wide open road in front of you, and a whole long weekend ahead of you.
And when you arrive at your destination holiday park, you sweep up alongside a spacious, clean, flat, warm, well-lit, comfortable tent with a king-size bed, a flushing toilet and the best view of the lake.
That, my friends is glamping.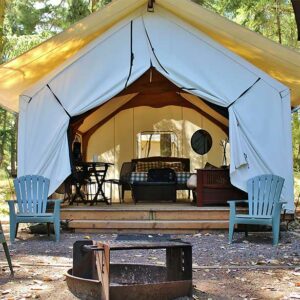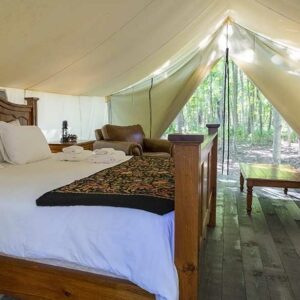 Glamping, in its basic form, is the fusion of 'glamour' and 'camping'. It's a camping experience without the hard work but with the same wide open sky, great outdoors, and beautifully fresh air that draws many of us to camping in the first place.
It's sleeping in comfort on a proper bed, raised off the floor, that you didn't have to set up yourself; it's lounging back in a deck chair on a solid floor, out of the mud and the dirt; it's enjoying a wood-fired pizza from a crackling fire that you didn't have to build; and it's leaving all the setting up and packing up to someone else so you can spend 100 per cent of your valuable vacation time just enjoying yourself.
Glamping has risen to prominence in Australia in the past three to five years, as increasingly more Australians – and visitors – seek to have an authentic camping experience in our spectacular backyard without the effort and 'discomfort' sometimes associated with camping.
Many holiday parks now offer glamping options, including safari-style tents, luxury cabins, yurts, teepees and even treehouses!
There's no doubt about it – while camping is relaxing and tranquil, it can also be hard work, especially in the beginning: knocking in tent pegs in the dark, struggling with dozens of poles, wrestling with metres of canvas awnings and annexes, wrangling the kids while you set the camper up – and that's all before you even think about finding firewood or blowing up your air mattresses.
It's true that many 'real' campers sometimes turn their noses up at the sudden upsurge of glampers. "Why bother going camping if you're not going to do it 'properly'?" And "it's not 'camping' unless you're roughing it" are common refrains. However, the reality is that, for many, glamping is a great way to ease into the camping lifestyle and get all the benefits without too much effort or investment. And for existing campers, who usually travel in a caravan, campervan or camper trailer, it provides the opportunity to enjoy our wide brown land from another angle – or at a time you might not have otherwise.