Celebrate Australia Day with this selection of food…..
You and your guests will enjoy the spread – Fair Dinkum!
Lamingtons
A square-shaped sponge cake coated in chocolate icing and desiccated coconut, and sometimes it includes a layer of jam and cream in the middle. The lamington was invented more than a century ago and named after Queensland's governor at the time, Lord Lamington.
Meat Pies
The most traditional pie has a flaky pastry containing diced or minced meat with gravy and don't forget the tomato sauce! The meat pie hit our shores at the same time as the First Fleet, and by 1891 George Sargent was commercially producing them in Sydney.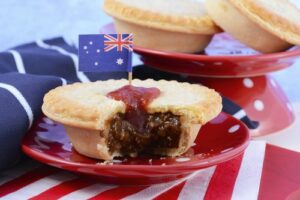 Vegemite
This black, salty paste is either loved or hated and after 90 years Vegemite is still an Australian breakfast staple used on toast. Chemist Cyril Callister created the vitamin B spread from brewer's yeast in 1922 for the Fred Walker Company and called it Pure Vegetable Extract and during World War II Australia's armed forces ordered so much Vegemite that rationing was imposed at home to meet demand for the troops.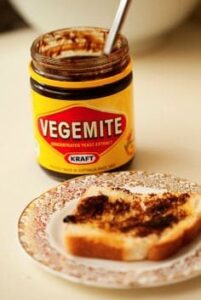 Pavlovas
The meringue-based dessert topped with cream and fruit is one of Australia's premier sweet treats. Both Australia and New Zealand claim to have invented pavlova in honour of Russian ballerina Anna Pavlova, who visited both countries in the 1920s.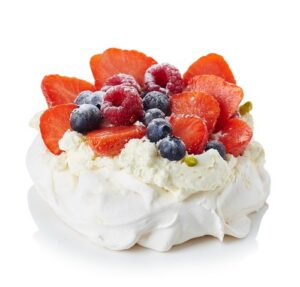 Tim Tams
Two chocolate biscuits filled with a chocolate cream centre and covered in chocolate. Invented by Arnott's Ian Norris and named by Ross Arnott after the horse that won the 1958 Kentucky Derby, Tim Tams first hit our shelves in 1964.
Try a Tim Tam slam?
Bite off the opposite corners of the biscuit, submerge one end in your cup of tea, coffee or milk and then suck the liquid through like a straw. But be quick to eat up the softened biscuit before it disintegrates!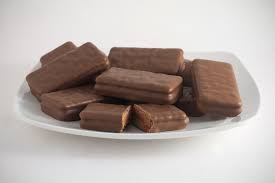 Chicko Rolls
This savoury roll is filled primarily with pulped cabbage and barley, as well as carrot, green beans, beef, beef tallow, wheat cereal, celery and onion and enclosed in a thick egg and flour pastry tube designed to survive handling at football matches. The  roll is typically deep-fried in vegetable oil. Developed by Bendigo boilermaker Frank McEncroe in competition to the Chinese spring roll that was being sold at football matches in 1951.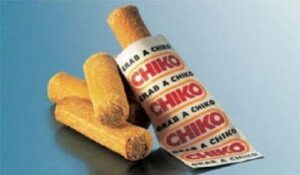 Sausage Sandwich
Every good Australian barbie offers a sausage sanga. Simply a sausage on a slice of  bread with a squirt of sauce – optional addition are BBQ onions.