Many holiday makers might consider seeing Sydney's iconic Harbour as a 'bucket-list' experience but they will be surprised to discover Sydney and New South Wales have bucket loads on offer – just think buckets of prawns, fishing buckets, champagne buckets, sand buckets and bucket hats.
Visitors to Sydney and NSW can experience a variety of holiday experiences and shouldn't be a once-in-a-lifetime 'bucket-list' experience. Visitors return time and time again to experience everything from beachside sojourns to fresh produce, and fine dining, and country idylls.
Here are some ideas to start your 'bucket list' experiences that you can practically repeat anywhere.
Bucket of Prawns
Nothing says a beautiful day in Summer like a leisurely lunch over a bucket of locally-caught prawns. If you prefer to eat al fresco head to the local Fish Market to fill your own bucket with prawns for the perfect waterside picnic.

Fill your own bucket at a Farmgate
Visitors keen to see more of NSW can head down the South Coast to Clyde River Farm, located 45 minutes out of Ulladulla. Upon arrival, guests are provided with a bucket that they can fill by hand picking an assortment of fresh blackberries, strawberries and blueberries. Clyde River Farm is open daily December to January.
On the Mid North Coast, try Ricardoes Tomatoes & Strawberries located just ten minutes north of Port Macquarie. Visitors can fill a bucket with plump ripe tomatoes and strawberries grown in environmentally-friendly greenhouses. The farmgate is open daily.
Alternatively take you own bucket and take a journey down one to the many food & wine trails NSW has to offer.
Bucket of Fish
New South Wales is home to more than 2,137 kilometres of coastline, making the State a fishing paradise. Join a fishing tour that includes all fishing gear, bait and tackle, food and drinks, and expert help – they'll even clean your catch!
Bucket of Beer or a Champagne Bucket
After a long, hot day, nothing is better than sharing a bucket of beer with a group of friends. The Beach Burrito Company offers buckets of cool beers to end a day at the beach at their Coogee, Bondi and Cronulla locations.If a champagne bucket is more your style, head to a local bar and enjoy a glass of sparkling.

Sand Buckets and Buckets of Water
Pack a sand bucket and head to the beach. New South Wales offers 877 beaches to choose from.
But buckets of water-fun is not just limited to the Coast. Jambaroo in Kiama, Wet'n'Wild at Prospect, Sydney Olympic Aquatic Centre in Western Sydney, and the Big 4 Dubbo Parklands in the State's Central West all feature giant tipping water buckets in their water parks. It's the perfect cool-down for kids, and big kids who want to make a splash!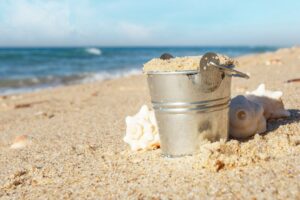 Add to your 'bucket' list today!