Here are two quick and easy breakfast dishes to serve whilst caravan or camping using the main ingredients of bread, bacon and baked beans.
Campers French Toast
Ingredients:
6 eggs
6 slices bread
6 rashers bacon
Tomato sauce (optional)
BBQ sauce (optional)
Oil
Method:
1. Heat the BBQ hotplate with a drizzle of oil.
2. Beat eggs (in a wide enough bowl to fit the bread).
3. Soak each slice of bread on both sides in the egg and place on the hotplate, once cooked, turn.
4. While the French toast is cooking, cook bacon on hotplate as desired.
5. Top French toast with bacon and serve with your choice of BBQ or tomato sauce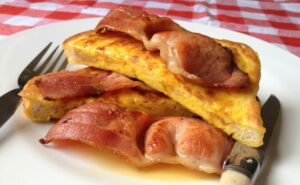 Baked Beans Casserole
Ingredients
1 can of baked beans
250 grams chopped ham
1 onion chopped
4 eggs
1 crushed clove of garlic
½ cup of grated carrot
½ cup of grated zucchini
½ cup of grated cheese
Method
Cover the bottom of the pan with a layer of baked beans.
Add zucchini, carrot, onion, garlic.
Crack the eggs on top and layer with ham and cheese.
Cook on a fire, camp oven or stove top for 30 minutes.