BIG4 Holiday Parks is thrilled to announce former Olympic champion Giaan Rooney and Shane Jacobson – a star of Australian stage and screen – as ambassadors of the iconic Australian business.
Shane will engage his legendary humour with a regular column in BIG4's monthly BIGNews email – called 'Ask Shane' in which he provides hilarious advice to members' questions. First edition Thursday 15 February.
"There's so many reasons why this excites me. Being a parent, what I love is that there are BIG4s all over Australia in so many incredible locations." – BIG4 member Shane Jacobson
February will also see Giaan launch BIG4's Healthy Holiday campaign by revealing her favourite camp kitchen recipes and tips for mums on holidays in BIG4 parks.
"Holidays have become so much harder to organise now that we have two children, but a BIG4 experience ticks all the boxes for us." – BIG4 member Giaan Rooney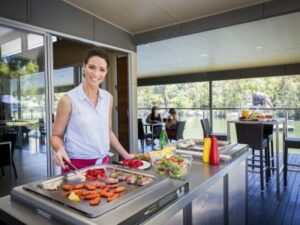 .