Simple to prepare and easy to grill.
Grilled Peanut Chicken
Ingredients: 2 tablespoons reduced fat peanut butter; 1 tablespoon fresh lime juice; 2 teaspoons soy sauce; 1 clove garlic, chopped; 1/3 teaspoon curry powder; 1 dash ground cayenne pepper; 4 skinless, boneless chicken breast halves.
Preheat grill for high heat.
In a bowl, mix the peanut butter, lime juice, soy sauce, garlic, curry powder, and cayenne pepper.
Lightly oil the grill grate. Place chicken on grate, and brush with 1/2 the sauce. Grill 6 to 8 minutes. Turn chicken, and brush with remaining sauce. Continue grilling 6 to 8 minutes, until chicken juices run clear.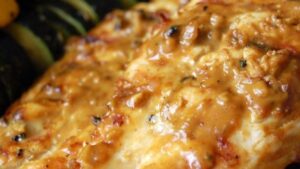 Grilled Ham & Pineapple Kebabs
Ingredients: 3 tablespoons brown sugar; 2 tablespoons distilled white vinegar; 1 tablespoon vegetable oil; 1 teaspoon prepared mustard; 3/4 pound cooked ham, cut into 1 inch cubes; 1 (15 ounce) can pineapple chunks, drained; skewers.
Preheat grill for high heat.
In a medium bowl, mix together brown sugar, vinegar, vegetable oil, and mustard. Thread ham and pineapple chunks alternately onto skewers.
Lightly oil grill grate. Place skewers on the prepared grill, and brush liberally with the brown sugar mixture. Cook for 6 to 8 minutes, turning frequently and basting often. Serve when heated through and richly glazed.
Grilled Garlic Parmesan Zucchini
Ingredients: 3 x Zucchini; Parmesan; butter; garlic
Preheat an outdoor grill for medium-high heat, and lightly oil the grate.
Cut the zucchini in half crosswise, then slice each half into 3 slices lengthwise, making 6 slices per zucchini.
Mix the butter, garlic, and parsley in a bowl, and spread the mixture on both sides of each zucchini slice. Sprinkle one side of each slice with Parmesan cheese, and place the slices, cheese sides up, crosswise on the preheated grill to keep them from falling through.
Grill the zucchini until the cheese has melted and the slices are cooked through and show grill marks, about 8 minutes.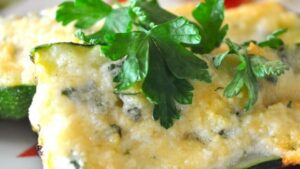 Grilled Corn On The Cob
Ingredients: 1 cup cold water; 1/2 cup white sugar; 1/2 cup salt; 8 ears corn on the cob, husks and silk removed; 1/2 cup softened butter; salt and pepper to taste.
Pour the water into a large pot, and stir the sugar and 1/2 cup salt together until dissolved. Place the ears of corn into the pot, and allow to soak at least 30 minutes but no longer than 8 hours.
Preheat an outdoor grill for high heat, and lightly oil the grate.
Remove the corn from the soak and grill the ears, turning every 2 to 3 minutes to cook the kernels on all sides. Brush the grilled corn with butter, and season to taste with salt and pepper.
Grilled Onions and Potatoes
Ingredients: 1 cup mayonnaise; 1/4 cup shredded Parmesan cheese; 3 cloves garlic, minced; 1/4 teaspoon red pepper flakes; 1/2 teaspoon paprika; 1/4 teaspoon salt; 1/4 teaspoon ground black pepper; 3 large baking potatoes, cut into 1/4-inch slices; 1 large sweet onion, sliced; 4 12×12-inch squares aluminium foil cooking spray.
Preheat grill for medium heat and lightly oil the grate.
Stir mayonnaise, Parmesan cheese, garlic, red pepper flakes, paprika, salt, and pepper together in a large bowl. Add potatoes and onion; stir to coat completely.
Arrange aluminium foil squares on a work surface and spray each with cooking spray. Divide potato mixture between the four squares. Fold aluminium foil over potato mixture and crimp edges together to form a secure pouch.
Cook on the preheated grill until potatoes are tender, about 30 minutes.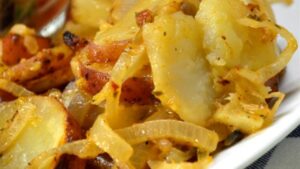 Tip: Aluminium foil can be used to keep food moist, cook it evenly, and make clean-up easier.