The Classic Series ll Fridge Freezer
Engineered in Australia to handle our extreme conditions, ARB Fridge Freezers offer uncompromising performance with a temperature range from -18 degrees to + 10 degrees celsius, giving you the convenience of refrigerated or frozen food and drinks no matter where your journey takes you.
The Classic Series II range of fridge freezers will keep your food fresh and your drinks cold no matter where you are. This range includes an advanced electronic control system with a dimmable backlit touchpad for easy night time operation, as well as a 12V power input readout for simple voltage monitoring on the display.
More than just a fridge monitoring system, the new app allows you complete control over your fridge – all at the touch of your phone or ARB LINX screen including temperature and battery protection, the wireless transmitter included with the Series II allows remote display and control through LINX and smart devices via the Fridge Connect app.
The Classic range has undergone a physical refresh with an upgraded colour scheme and beneath the Classic Series II's tough steel outer casing, a reversible basket with divider helps keep food and drinks stored neat and tidy, while a convenient drain plug allows for simple cleaning.
ARB Fridge Connect App
Granting users full control of the Series II fridge via mobile devices, the ARB Fridge Freezer app can turn the fridge on and off, as well as manually adjust (or set via pre-sets) the target temperature and display the target tempt, power input voltage and fridge compressor status.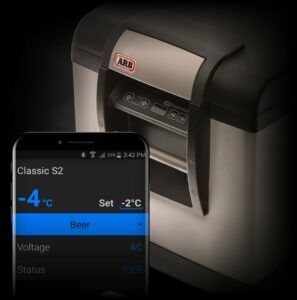 Transit Bag
Why not consider the ARB transit bag shields your fridge from dents and scratches while also providing additional insulation in extreme temperatures. Made of tough, durable material, the functional ARB transit bag features a handy side pocket for items such as the power cord or instruction booklet, cable retention slots to keep cables away from moving parts when on a fridge slide, as well as openings for the fridge's rubber feet, power cables, drain plug hole and bonus branded bottle opener.