Grilled Prawns with Creamy Onion Sauce
Ingredients:
½ a cup of Vintage Cheddar and Caramelised Onion Dip.
12 green whole prawns.
1 large zucchini, cut into ribbons (you can do this with a vegetable peeler)
½ a cup of milk
1-2 tsp of hot chilli sauce (optional)
1 tbsp of chopped basil, + extra for garnish
2 packet papadams
Method:
To cook the prawns:
Skewer the prawns onto 2 skewers (one skewer near the tail and one near the head – this makes it easier to handle).
Under a grill on a foil-lined tray, or on a BBQ, spray the prawns well with olive oil.
Cook until they turn orange and begin to char before turning for the same effect on the other side.
To Make the Sauce:
In a small saucepan, bring the dip, milk, basil and chilli sauce, (optional) to a low simmer.
Allow to cook for 2-3 minutes, or until it begins to thicken.
To Assemble:
Arrange the zucchini ribbons on half of a large platter.
Place the cooked prawn skewers on top.
Pour the sauce over the prawns & zucchini.
Microwave the 2 papadams for 40 seconds (or as per packet instructions) until crisp and crumble in your hands.
Sprinkle the crunchy pappadam pieces over the prawns, along with extra basil leaves & enjoy!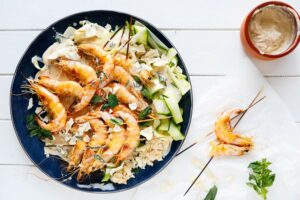 Tzatziki Potato Salad
Ingredients:
600g desiree potatoes, skin on
½ cup Tzatziki dip
½ cup frozen peas
1 tbsp finely diced dill
1-2 tbsp whole egg mayonnaise (optional)
2 tsp lemon zest
Salt and Pepper
Method:
Slice potatoes in half and then each half into quarters. Place potatoes in a pot of cold water on the stove and bring it to boil over medium high-heat. Once the water is boiling, reduce to low-medium heat and allow to simmer uncovered for 8-10 minutes – the potatoes are ready when you can pierce them with a fork easily.
Drain the potatoes and allow to cool to room temperature.
Whilst waiting for the potatoes to cool down, bring a small pot of water to boil on the stove and add the peas. Cook for two minutes before draining the peas in a colander. Place the colander under a running tap of cold water briefly to cool the peas down and stop the cooking process.
Once the potatoes have cooled down, place them in a bowl with the drained peas, Tzatziki dip, dill and mayonnaise (if using) before gently mixing everything together. Season with salt and pepper and gently mix again.
Refrigerate the salad till chilled. Just before serving, sprinkle with lemon zest.