jodie
Outback NSW is cooler than you think
There's no better time to explore the rugged beauty of outback national parks in NSW than the cool winter months or stunning spring days.
Planning a trip to the outback is easier than ever before, with the NSW National Parks and Wildlife Service releasing a selection of suggested itineraries, drive options and specials deals for unique accommodation and guided tours.
Escape the everyday and gaze at the stars when you stay at historic homesteads or shearers' quarters, learn about our rich Aboriginal culture on a guided tour, discover 4WD trails, and get up close with native wildlife in our national parks.
With nature at its most spectacular and a world of exciting experiences on offer, it's the perfect time to plan that once-in-a-lifetime trip to the outback and hit the wide, open roads for a memorable adventure.
Top Five National Parks to visit in Outback NSW:
Mungo National Park
Wander the sands of time in ancient Mungo National Park at the heart of Willandra Lakes World Heritage Area, join a guided tour and learn about the remarkable archaeological finds of Mungo Man and Lady (the world's oldest human cremations).
Yanga National Park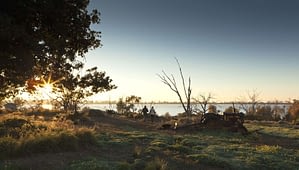 Camp by the banks of the Murrumbidgee and experience a world of unique flora and fauna. Visit the century-old Yanga woolshed, take a guided tour of Yanga Homestead or just relax on the shores of Yanga Lake.
Murray Valley National Park
Visit eco-certified Murray Valley National Park and Murray Valley Regional Park, part of the largest complex of red gum wetlands in the world. This stunning region is ideal for bird-watching, canoeing and fishing.
Kinchega National Park
Join a guided walk around the Old Kinchega Homestead precinct and be enthralled by the region's rich pastoral and Aboriginal history, and experience unique accommodation at the Kinchega Shearers' Quarters.
Toorale National Park
Experience dramatic sunsets and starry nights under floodplain landscape and enjoy riverside camping, freshwater fishing or even birdwatching, in the newest outback park to open to the public.
To plan your adventure to outback NSW, visit National Parks and Accommodation
Story credit: 13 May 2015 Media Release by The Office of Environment & Heritage, NSW National Parks and Wildlife 
Images:
Yanga Lake, Yanga National Park  Credit: D.Finnegan, OEH
Mungo National Park  Credit: NSW National Parks & Wildlife Service
Toorale National Park, Credit: NSW National Parks & Wildlife Service