Quirky pubs of Outback NSW
The Family Hotel, Tibooburra

It's hard to believe that in one of NSW's most isolated regions, a humble single-storey sandstone dwelling serving brews and pub fare bears the work of an Archibald Prize-winning artist.
But idle hands made it so, when Aussie iconic artist Clifton Pugh found himself barrelled up at the The Family Hotel in Tibooburra during the late 1960s mid-flood. The main bar provided a canvas for Pugh's spicy depiction of an orgy, starring the devil. Locals successfully pushed to have it covered, but Pugh's efforts were later restored.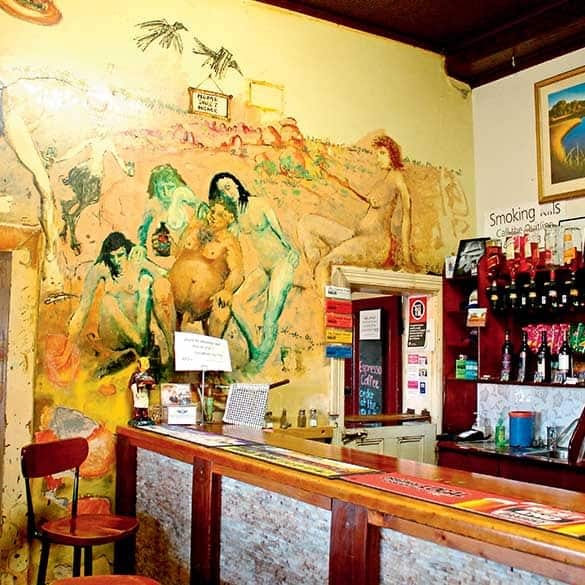 Silverton Hotel, Silverton

Hollywood stretches its tentacles to the far reaches of Outback NSW, cementing Silverton Hotel as a silver screen icon. The Hotel and the ghostly hamlet of Silverton in which it stands were thrusted into international stardom with the release of the Mad Max films. A fact the town commemorates with a museum and a black Volkswagen Beetle out front of the pub, in a sly nod to the film's V8 Interceptor.
The pub's credits also include Razorback, Wake in Fright (which predates Max Max), The Slim Dusty Movie, Mission Impossible II, The Adventures of Priscilla, Queen of the Desert, to name a few.
Packsaddle Roadhouse, Packsaddle

Hidden in the far reaches of Outback NSW near Broken Hill is the Packsaddle Roadhouse, where you can enjoy an icy brew and dine beneath a brigade of old boots and hats donated by travellers before.
The roadhouse is surrounded by Packsaddle Station, which dates back to the late 1800s as part of a larger property that was annexed in the 1920s by the Sir Sidney Kidman empire for a period of time.
Farming and transport relics from its days as a horse exchange serve as a timely reminder.
Palace Hotel, Broken Hill

The vibrant murals of Broken Hill's Palace Hotel, made famous by The Adventures of Priscilla, Queen of the Desert, were crafted at the hands of local Aboriginal artist, Gordon Wayne.
Wayne painted the first aqueous scene in the early 1970s to realise the-then publican Mario Celotto's vision of desert oasis. So impressed by Wayne's handiwork and vision, Cellotto extended the commission to include the grand three-level stairwell, foyer and front bar as well. Cellotto, an artist himself, painted a copy of Botticelli's Venus on one of the pub's ceiling, and several hand-stencilled wallpaper panels plastered throughout.